Tesco has unveiled its new discount chain called Jack's that aims to tackle the rising threat posed by German rivals Aldi and Lidl. "Great tasting food at the lowest possible prices with 8 out of 10 products grown, reared or made in Britain".
Two Jack's shops will officially open on Thursday in Chatteris, Cambridgeshire, and Immingham, North East Lincolnshire.
Tesco plans to open another 15 branches over the next year, five of which will be converted from existing Tesco stores.
Chief executive Dave Lewis will be at the launch even at the site in Chatteris, Cambridgeshire today (Wednesday).
Although unconfirmed, it is thought that Middlewich could be one of the locations now being eyed-up by the supermarket giant for its new brand, after July's announcement that it would be closing its larger superstore in the town.
"The intention is for us to be the cheapest in town", said Lewis, adding Jack's could benefit from Tesco's buying power.
Looking around Jack's range which is smaller than the offering in Tesco - there are only one or two options for every food product rather than the ten you would find in a normal Tesco - some prices seemed to be around the same as those charged for the Tesco essential range.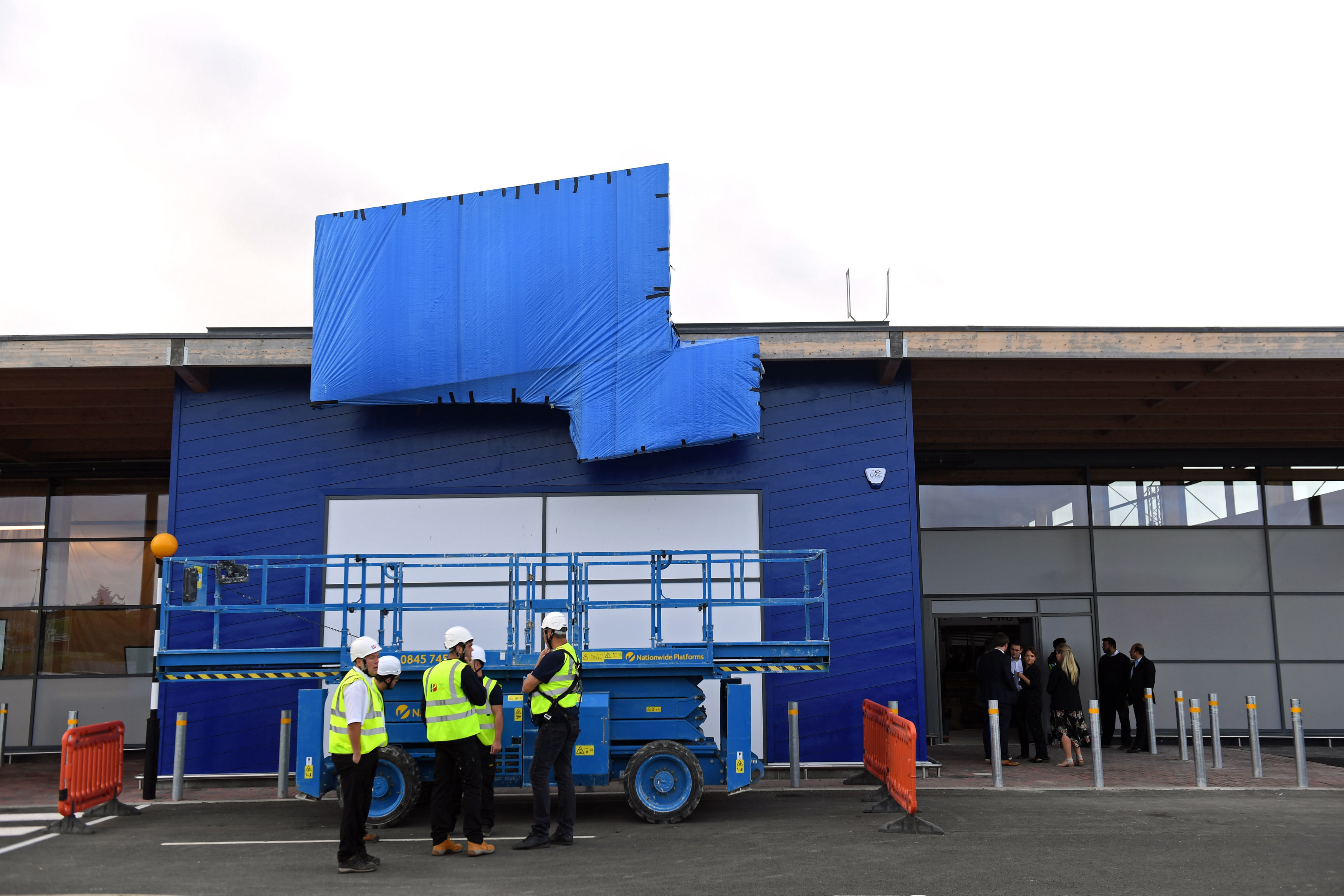 Tesco unveils the new Jack's concept at their site in Chatteris Cambridgeshire
The latest figures by Kantar Worldpanel, for the three months to 9 September found that Aldi and Lidl had grown their respective market shares to 7.6 per cent and 5.5 per cent respectively, while Tesco remains the biggest player with 27.4 per cent.
You've got to hand it to Dave Lewis - the decision to launch a new chain of budget stores is certainly ballsy.
Some 1,800 of the 2,600 products stocked in store are Jack's branded.
With its emphasis on a United Kingdom product base, Tesco has finally launched a response to the high street threat of European retailers Aldi and Lidl.
Some items did seem cheaper in Jack's: olives were 10p cheaper and Cherry Bakewell box 30p cheaper than in Tesco.
Jack's is not the first attempt by Britain's mainstream grocers to crack the discounter market.
Shoppers used to the ever-changing middle-aisles of Aldi and Lidi will feel at home in the new supermarket, with it's WIGIG ("when it's gone, it's gone") aisle of offers. Jack Cohen founded Tesco 99 years ago in 1919.
More news: Storm-weary face more floods