However, the latest Volkswagen concept eschews a traditional dashboard, pedals and steering wheel in a move aimed at highlighting its autonomous driving technology, which Volkswagen hints will provide it with hands-off Level 5 capability when the production version of the I.D. Vizzion arrives in showrooms some four years from now.
Inside the Volkswagen concept auto ID Vizzion.Debuting at this year's Geneva Motor Show (March 8-18), the ID Vizzion concept is a five-metre long premium glass MPV with an electric drive system, created to travel at up to 180kph. Why do all the names have two Z's? The vehicle has no steering wheel and does not have visible controls.
For example, when the "Digital Chauffeur" is driving, passengers now have time to focus on other things. Biometrics? Big Brother-esque scans of social media profiles?
The VW ID Vizzion also does not feature any infotainment displays with owners communicating with a virtual host via gesture and voice controls.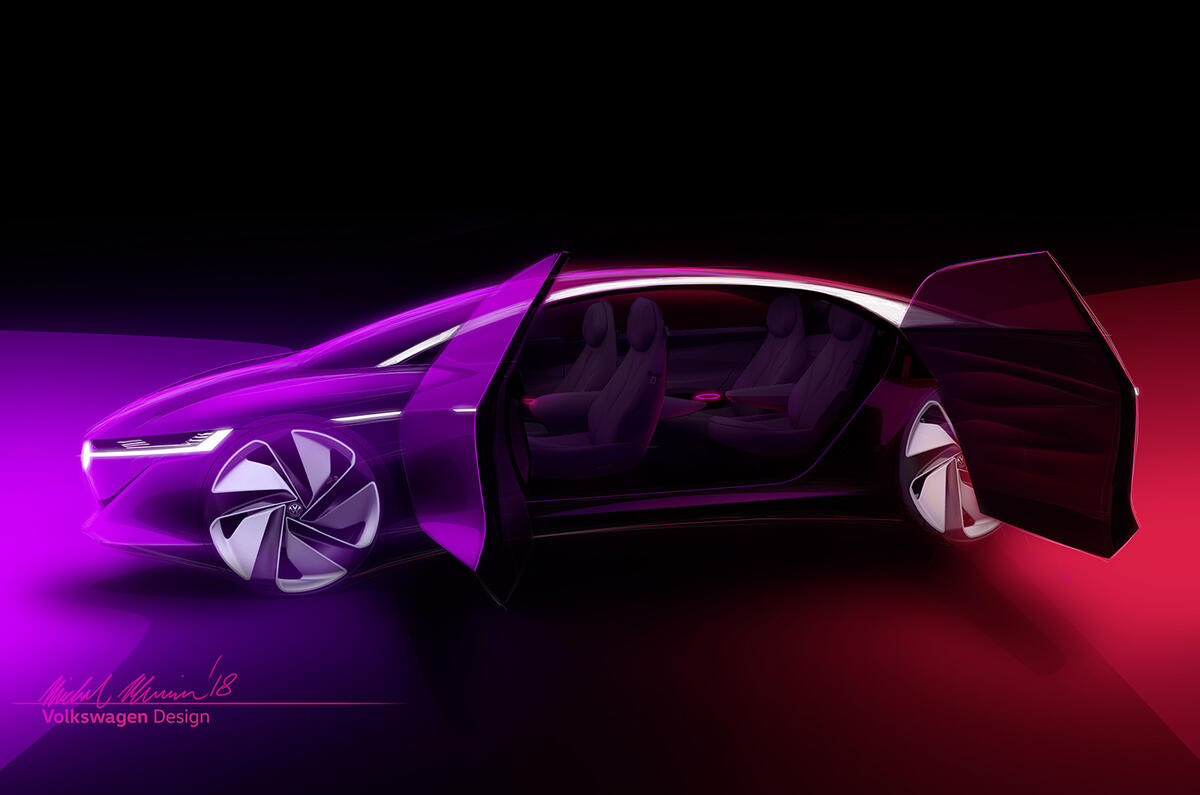 Vizzion to Join Buzz and Crozz in Volkswagen's ID World
The Volkswagen I.D. Vizzion is the German carmaker's fourth EV concept that showcases what its lineup could like post-2020.
The I.D. VIZZION1 supports the Volkswagen claim for future individual mobility. Dream a little more and we probably start imagining a fully connected auto with a built-in butler. maybe we won't even have to drive?
By 2025, the brand plans to introduce more than 20 electric vehicle models.
To talk about specifications, the vehicle has a top speed of 180 kilometers per hour or 112 miles per hour. A 111kWh battery pack unlocks a 413-mile range, with brake regeneration factored in. Starting in 2020, the I.D.2 will launch as an electric auto in the compact class; this will be followed, at short intervals, by a new electric SUV - the I.D. After that, a new electric SUV called the I.D. Crozz and then the I.D. But just because automakers don't actually have self-driving technology to show off yet doesn't mean they're going to wait to design autonomous concept cars. He studies mechanical engineering at Wayne State University, serves on the Board of Directors for the Ally Jolie Baldwin Foundation, and is a loyal Detroit Lions fan.
More news: Snow, sleet, freezing rain making travel challenging