Prime minister Modi told all parties that the race which has been started to score political benefit after painting the cow protection with the communal colour will not do anything good for the country and it is not benefitted for our country.
"All political parties should collectively denounce hooliganism in the name of cow protection". According to AnanthKumar PM Modi also said that "There is a law on cow protection in the country".
"Maintaining law and order is the responsibility of state governments and wherever these incidents are taking place, the state governments must deal firmly with it". It is also the first day of the over three-week monsoon session of Parliament. He also called upon all political parties to ensure that everyone votes and no vote is wasted.
Mr. Modi had last spoken against cow vigilantism on June 30 at the Sabarmati Ashram, calling violence in the name of "gau bhakti" antithetical to Mahatma Gandhi's views.
PM Modi went on to say that the the country does not gain from the violence in the name of cow protection and urged everyone to not to take law into their hands. "Everyone should come together and put an end to it (cow vigilantism)", the Prime Minister told all parties. Opposition leaders took up the issue of recent attacks on minorities and Dalits.
Kumar said that Parliament will commemorate the 75th anniversary of the Quit India and added that the prime minister has sought healthy discussion over the historical significance of the event.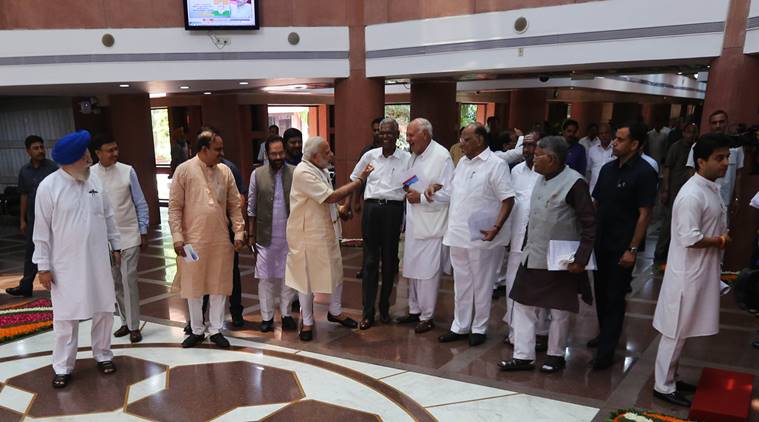 Crack down on cow vigilantes, PM tells States
In his speech, Modi also referred to the presidential poll and said it would have been better had there been a consensus on the candidate. He quoted Modi as terming the reform an example of "co-operative federalism".
The National Democratic Alliance (NDA) Government had convened for an all-party meeting to seek the Opposition's support for the smooth conduct of proceedings in both the Houses.
The Prime Minister comment comes in the wake of reports of lynching from across the nation.
Home Minister Rajnath Singh, Finance and Defence Minister Arun Jaitley, Ministers of State for Parliamentary Affairs Mukhtar Abbas Naqvi and SS Ahluwalia also attended the meet.
Earlier, talking to media, Congress leader Ghulam Nabi Azad said his party has demanded the discussion on Kashmir issue and continued standoff with China over Doklam matter in Parliament. The TMC had announced it would boycott the meeting amid recriminations between it and the BJP over the recent violence in West Bengal.
More news: Two Bridges Washed Away In Rayagada, Naveen Seeks 4 Choppers From Centre